Wallpapers Central App on iOS is an incredible success! We are very grateful to all of you for the results we are achieving.
This incredible App can't remain an "iOS exclusive". Many users, on our Telegram channel, have asked us to create an Android version and today we are finally ready for this announcement.
It is a new challenge. We will start again, from scratch, with the aim of climbing another ranking within such a vast and varied Store.
Introducing Wallpapers Central for Android
Now available for free on Google Play Store

Wallpapers Central
Free
Just like on the iPhone, Wallpapers Central App for Android has a gorgeous user interface and it's very easy to use thanks to the 5 navigation tabs at the bottom:
HOME: The main app core from which you are able to download every wallpaper that we are hosting so far. Check the Home for -at least- one new Wallpaper a Day, completely free and without limits!
FEED: A really powerful and a very interesting section that allows you to download new wallpapers uploaded directly by other users (from all over the world!). Yes, with this application we give you the opportunity to upload your original wallpapers, your perfect photos or artworks. We will manually review and moderate all the wallpapers and we will approve only the highest quality ones, according to our Terms of Use.
LIVE WALLPAPERS: This section offers access to our exclusive gallery of LIVE Wallpapers that come alive on the Lockscreen and on your Launcher. These contents are reserved to PRO users. You can use in-app purchases to subscribe a PRO account.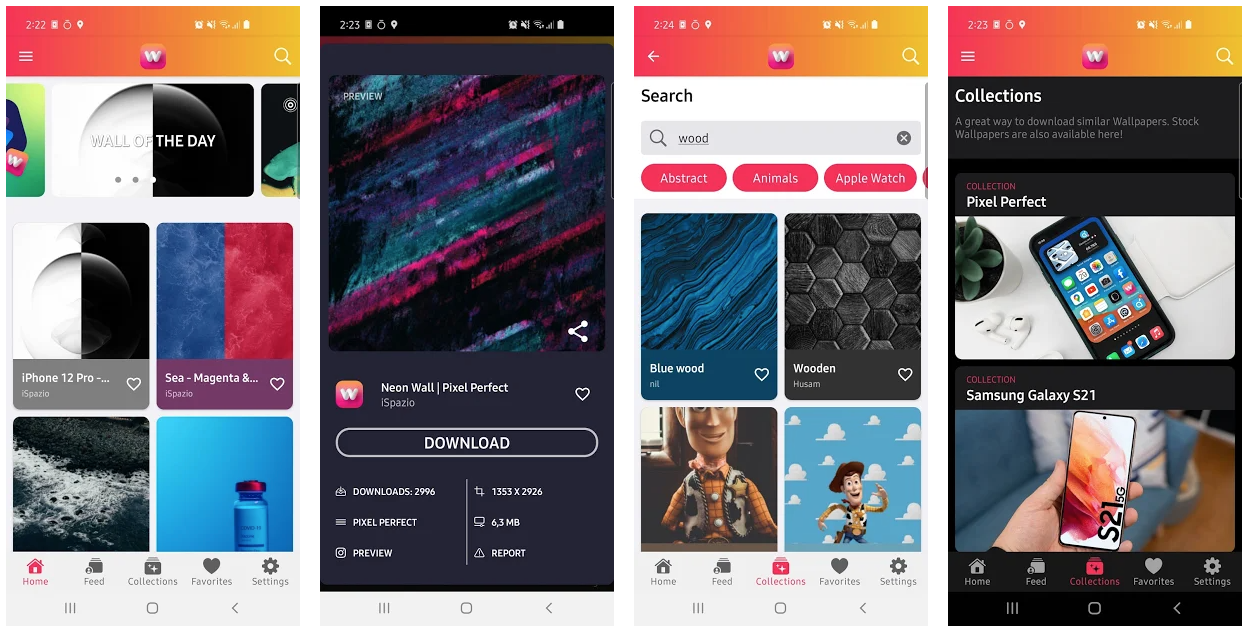 COLLECTIONS: The place where we group all similar wallpapers together to be easily found and downloaded.
FAVORITES: It is very useful to save the Wallpapers you like most and keep them all stored in a separate section.
SETTINGS: Useful for adjusting the app's appearance by forcing Dark Mode or Light Mode. From this section you can also clear the cache, delete favorites, manage notifications, follow us on social networks, quick access to our Privacy Policy and Terms of Use.
There is also a search engine to quickly find the wallpapers that best suit your tastes of the moment.
We sincerely hope you enjoy the application. I personally thank the developer, Marek Teuchner, for developing this app in a short time.
Your reviews are very much appreciated. We have worked a lot on this app, let us know if you like it!