We know you love our DUAL Wallpapers and we want to thank you for the enormous support you are giving to our DUAL Wallpapers on Instagram. So today we are pleased to introduce the new "DUAL Widgets" Shortcut.
What is a DUAL Wallpaper?
A DUAL Wallpaper is a background particularly cool on iOS 14. It has 2 colors and you can use it to simulate the macOS's sidebar with Widgets. They are gorgeous to use on iOS 14 in combination with new Widgets.
What is DUAL Widgets?
DUAL Wallpapers were invented by iSpazio and Wallpapers Central but today we introduce the "DUAL Widgets" , a Shortcut which will allow you to transform any standard Wallpaper into a DUAL Wallpaper!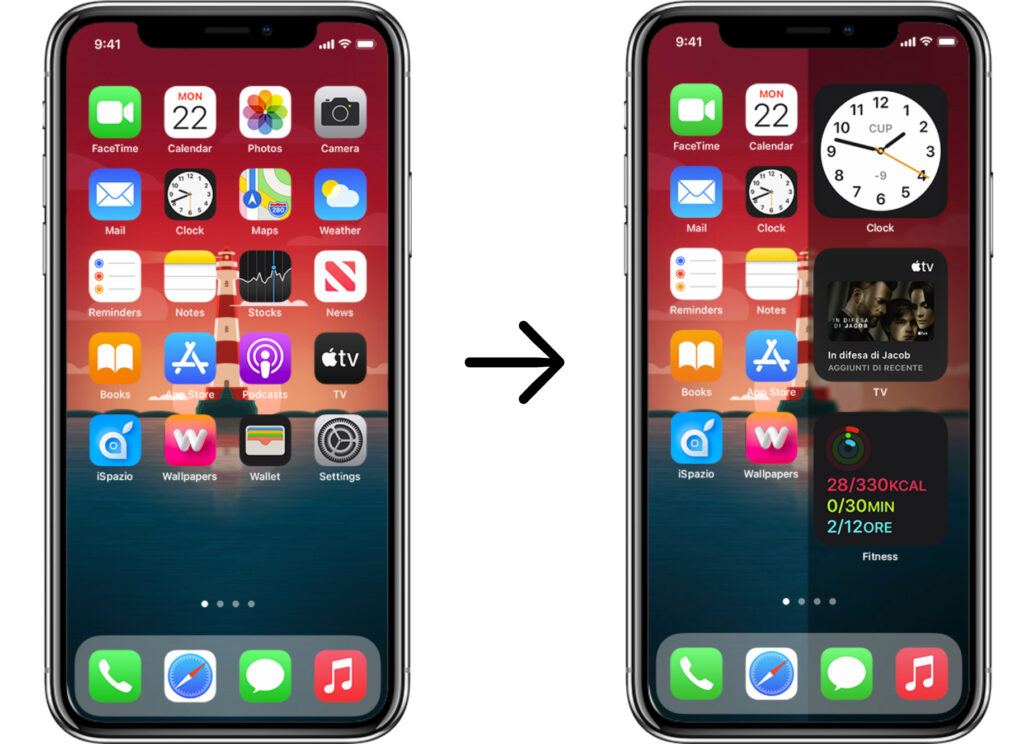 How to use DUAL Widgets
1. Download DUAL Widgets Shortcut from our dedicated website, Shortcuts Central. (visit the page directly from your iPhone)
2. If the Shortcut can't be opened, it's because you never used Shortcuts App before. So read here how to fix the problem. Furthermore, if this is the first Shortcut (created by us) that you are using, then you need to install another Shortcut before proceeding: our Library, essential for managing automatic shortcuts updates. By the way, it's not hard as it seems, just follow the instructions on the screen and you will have no problems.
3. After installing DUAL Widget, now you are ready to play it! You will be able to choose between Italian and English language, then you will have to choose, directly from your gallery, the "standard" wallpaper that you want to transform into a DUAL Wallpaper.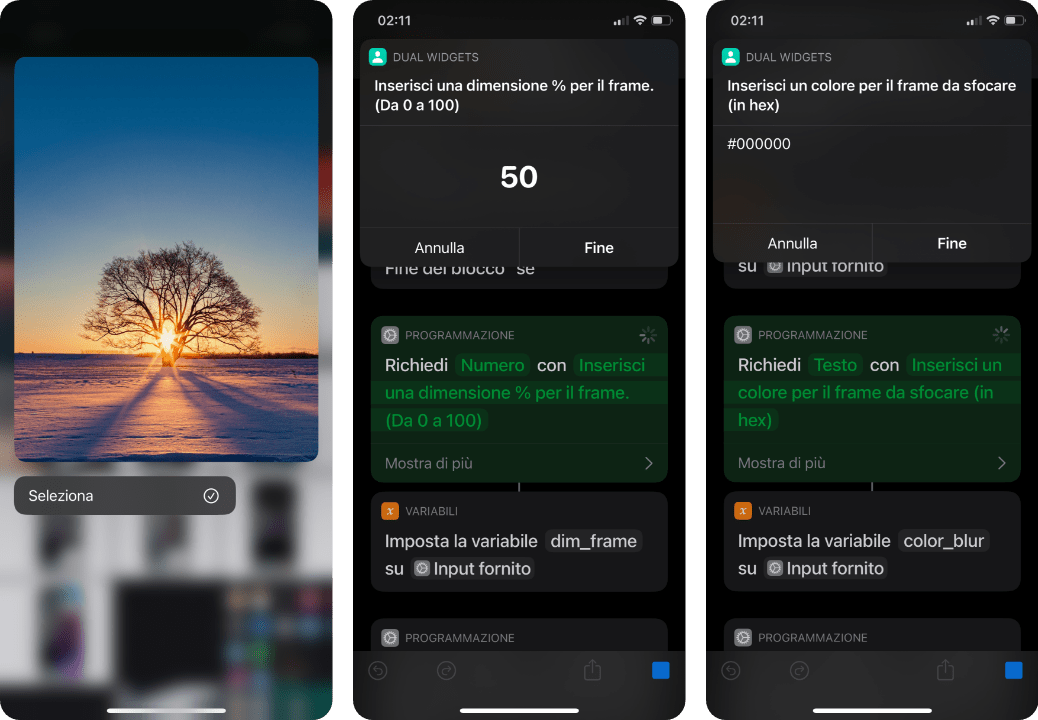 4. After choosing the image, a series of questions will be showed on your screen. These "questions" are:
Specify the size of the frame to be opacified and transformed. If you leave 50%, the background will be split exactly in half, like all DUALs.
Enter a color with which to make the gradient. If you leave #00000, we will use the black, so half Wallpaper will be slightly darkened.
Enter the intensity of the color. If you leave the default value (40), a black with reduced opacity, (i.e. a gray), will be used. The higher the number you enter here, the darker the final result will be.
Enter a blur value. We recommend you to leave the default value of 80.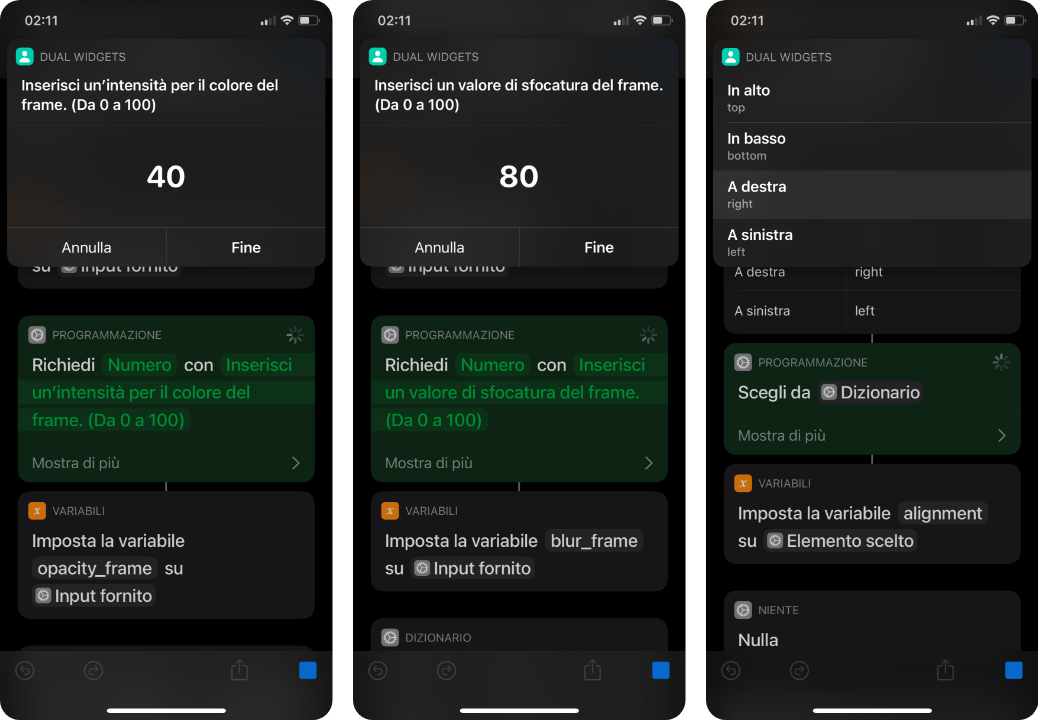 Finally we come to the final choice, the one relating to the position of our modified box. For DUAL wallpapers that simulate the sidebar with Widgets, you will have to choose "Right" or "Left".
5. Click on Generate Wallpaper and various operations will be performed automatically, until you will get the final DUAL Wallpaper, ready to be saved and used!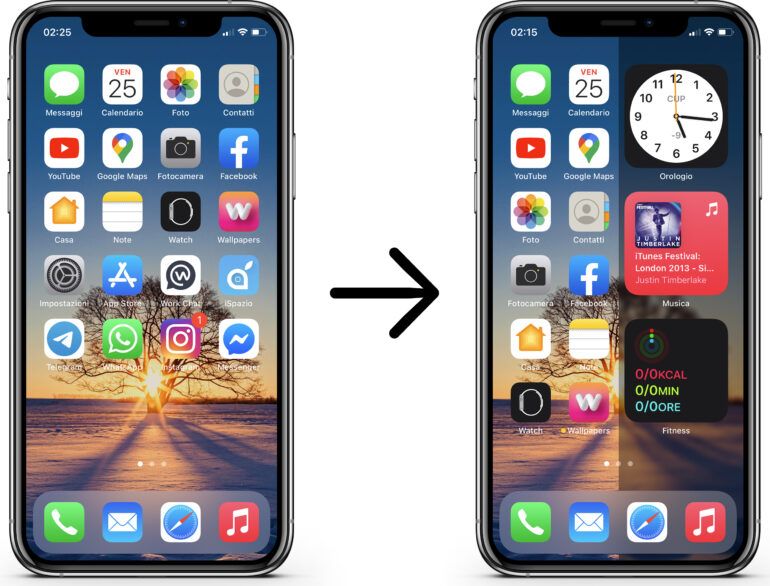 Now try it and share your photos on Instagram. Add a tag or a mention to @ispazio and we will repost the best results.
You can also upload your DUAL Wallpapers to our FEED using Wallpapers Central App. Your Wallpapers will be shared with the world!

We are really proud of what we are doing and how we manage and connect all our services to each other. We thank you for the excellent feedback you are giving us.